Australian Butlers in the Media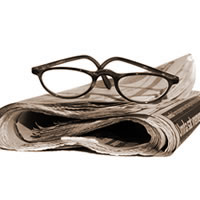 Australian Butlers maintains a high profile with media coverage on the school, butlers, trainers, the personal service industry and the popularity of Australian butlers around the world.
Christopher is a popular radio interviewee and has spoken with various stations around the country as well as Radio National which is transmitted into Asia.
We have had reporters sit in on classes, engage a butler for a day, spend the day working with a butler, photographing butlers on Bondi Beach, televising training and following individual careers.
Please enjoy our media section.
The Australian Financial Review
Article Title: You do what? Ordinary people with extraordinary jobs Published: 11-Feb-2012
Symon Kerslake, 45, BUTLER. I always wanted to be a butler. I just loved the pomp and ceremony, the antiques, the art and the fabulously interesting people.
Sydney Morning Herald
Article Title: How the butler did it Published: 20-May-2011
For some the mark of true success in life is the enormous house on the harbour, or the flashy car in the drive. For others it's the five star international holidays or expensive jewellery. But nothing says 'I've made it' more than having your own butler.
Sunday Leader, Colombo, Sri Lanka
Article Title: Exceptional Services Six Steps Published: 26-Aug-2011
Australian Butlers operates an international business from Braidwood, dealing on a daily basis with demanding customers. Our philosophy is simple – to exceed our client's expectations.
London Telegraph
Article Title: Surfing Aussies fill the growing demand for a modern Jeeves Published: 31-Jul-2005
They are perhaps better known for their fondness for canned lager, ready recourse to profanities and relaxed dress sense. Now, however, Australian men are in demand for their skills as butlers in many of Britain's more well-to-do households.
Vogue Magazine
Article Title: Higher Help Published: 18-Mar-2005
Higher Help – The butler is back, but what are the new rules for a modern-day master and servant? – Hannah Rand
The Weekend Australian
Article Title: Modern Day Butler Rewards Published: 20-Nov-2004
"Celebrity couple requires butler. Duties include managing residences in New York, Paris and the Bahamas, accompanying family to exotic destinations, chauffeuring luxury cars, hosting parties for glitterati.