Placement Services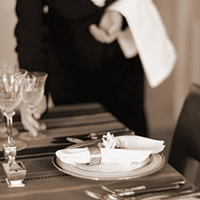 Australian Butler Services places quality candidates and successful graduates of the Australian Butler School with clients in all states of Australia, New Zealand, Asia, Europe, USA and the Middle East.
We are constantly seeking experienced, professional and enthusiastic candidates to fill a variety of positions in private residence as butlers, house managers, chefs, chauffeurs, housekeepers and personal assistants.
Established in 1997, Australian Butlers Services have built up a unique network of clients and candidates and consequently you will rarely see our positions advertised.
As a small, expert team, we regard ourselves as service professionals rather than a placement agency. People are our business and this means that our candidates are as important to us as our clients.
How we work
We take the time to meet all of our candidates in person whenever practicable. We understand that whilst skills and experience will secure an interview, the match of personalities between client and candidate is just as important.
We also meet all our clients in person whenever practicable to ensure we have a thorough and accurate understanding of the position to convey to you.
We match your skills, experience and personality with our client's requirements. We will present only the candidates that meet the brief. We do not waste your valuable time, nor the client's, by recommending you for positions that will satisfy neither party.
Our service does not end with a successful placement. We monitor client and candidate satisfaction throughout your tenure. Many of our staff have been associated with Australian Butlers for their whole career and rely on us for objective advice or sometimes simply a friendly exchange.