Recommended Reading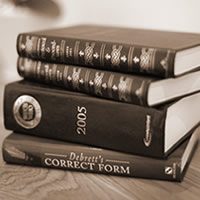 There are many publications which relate to private service, luxury living, luxury products and the experiences of those who work or have worked in private service as well as works of fiction offering interesting insights into the world behind the green baize door.
Enjoy watching the classic Upstairs, Downstairs or more recently Gosford Park and of course, Downton Abbey. For a little light relief Jeeves and Wooster never loses its appeal, after all, a sense of humour is an essential tool for a successful butler.
For current tips and tools of the trade, we recommend The Institute of Modern Butlers monthly e-journal and The Butler Bureau's blog. But be warned we don't necessarily agree with everything that is published and protocols, etiquette and customs vary from country to country but all knowledge is valuable and we encourage our students to absorb as much as they can.
Our recommendations
Butlers and Household Managers, 21st Century Professionals – Steven Ferry
The Insider's Guide to Household Staffing – David M Gonzalez
Getting Things Done - David Allen
How to Win Friends and Influence People - Dale Carnegie
The 7 Habits of Highly Effective People - Stephen R Covey
I'm Not Crazy, I'm Just Not You: The Real Meaning of the Sixteen Personality Types - Roger R Pearman and Sarah C Albritton
Hotel Butlers, the Great Service Differentiators – Steven Ferry
Australian Protocol and Procedures - Sir Asher Joel and Helen Pringle
Debrett's Correct Form
Debrett's A-Z of Modern Manners
Penguin Book of Etiquette – Marion von Adelstein
It's Not Etiquette: A Guide to Modern Manners - David Meagher
Up and Down Stairs - Jeremy Musson
A Butler's Life, Scenes from the Other Side of the Silver Salver - Christopher Allen
Home Comforts, the Art and Science of Keeping House - Cheryl Mendelson
The National Trust Manual of Housekeeping
The Remains of the Day - Kazuo Ishiguro
Monarchy: The Royal Family at Work - DVD