Australian Butler Services
A small and dedicated team of professionals, Australian Butlers' staff are committed to excellence in customer service and training delivery. Drawing on our exclusive contact network, combined knowledge and comprehensive experience we are able to provide quality staff and tailored training solutions for private employers, hotels, resorts and leading corporations worldwide.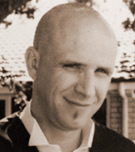 Christopher Reid - Chief Executive Officer and Principal
Christopher Reid is the Chief Executive Officer and the Principal of Australian Butlers. Among some of the first students to graduate from the Australian Butler School in 1999, Christopher left a successful career in the corporate sector to work as a Chief Steward in Europe and a Butler/Lifestyle Manager in Australia. This unique set of skills gives him an insight into the lifestyle needs of high-worth individuals and results in creative staffing solutions for your home. And as a father of five, Christopher understands how important this is to the happiness of busy families and individuals.